ev-chargers
Hrvatski Telekom and Tommy Supermarkets Launch Fast Charging Station Network
Hrvatski Telekom, Croatia's leading telecommunications services provider, and Tommy, one of the country's leading retail chains, have completed the installation of five fast charging electric vehicle stations within Tommy retail facilities in Dubrovnik, Malinska on Krk island, Solin, Split and Zadar.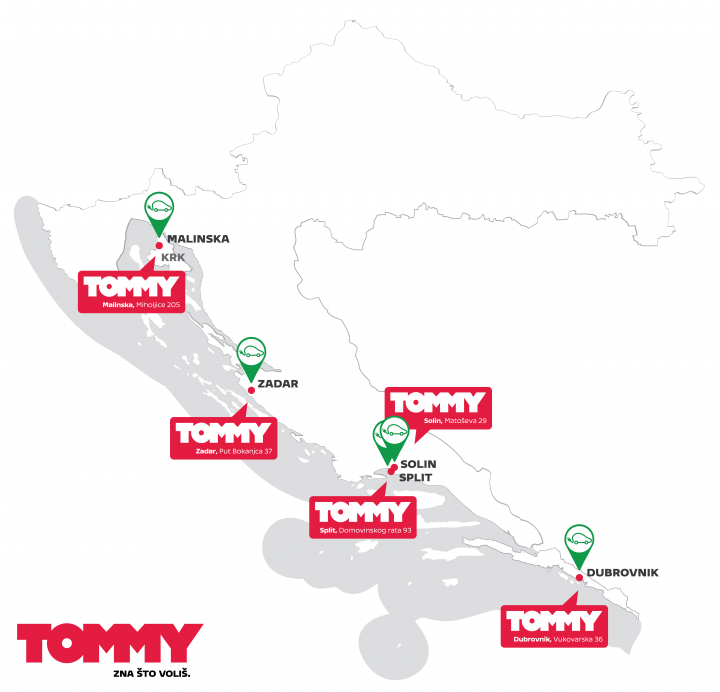 As part of broader cooperation efforts, Hrvatski Telekom and Tommy provide a charging service for all Tommy store visitors 24 hours a day, seven days a week. The service is charged in the amount of 0,35 €/kWh (HRK 2,60) including VAT for 50 kW in available stores, except for the Plano store where the service is charged in the amount of 0,46 €/kWh (HRK 3,49) with VAT for 20 kW.
Following the European Commission guidelines which will ban the sales of gasoline- and diesel-powered vehicles across the EU after 2035, as well as legal requirements mandating that all new buildings with over ten parking spots must feature at least one charging station, the two Croatian market leaders recognized an collaboration opportunity and jointly set the foundation for a future system upgrade of the Tommy retail network with charging stations.
It gives me great pleasure that Tommy, the leading retail chain on the Croatian coast, has decided to offer all visitors to their stores the opportunity to recharge their electric vehicles. This service may be used by domestic clients as well as visitors coming to Croatia for their summer vacation. As Hrvatski Telekom is the Croatian leader in service station installation and management, in addition to digital charging services, we were seen as the ideal partner in this project. We believe this project to be the first of many in which we will jointly promote electric cars as the most environmentally sustainable form of mobility
Marijana Bačić, Hrvatski Telekom Vice President for Corporate Sales and ICT Services.
Fast charging stations have been installed as part of the "Comprehensive fast-charging corridor network in Southeast Europe," co-funded by the EU's Connecting Europe Facility program. Its purpose is to ensure top quality charging services for both local EV users and tourists bringing their EVs on their Croatian vacations.
We are pleased to be taking part in this project as well as many others promoting social responsibility and sustainability, as they offer solutions aimed at improving environmental protection standards. By applying the latest technology and working together with partners leading the way in this area, Tommy shows its social responsibility, by raising awareness of environmental protection needs. In the project's later phases we hope to increase the availability of fast charging stations in even more facilities and thus make our contribution to Croatia's sustainable energy transition, while offering additional services to our shoppers increases our total market value.
Dario Mamić, Tommy's Corporate Communications Director.
Hrvatski Telekom currently manages over 550 charging stations at over 240 locations in 8 countries
(Croatia, Czechia, Montenegro, Kosovo, North Macedonia, Romania, Albania and Poland.) Via the espoTs application, Hrvatski Telekom enables Croatian EV owners effortless access to charging stations at over 50 thousand charging spots in over 9 countries.
With over 150 thousand active charging sessions enabling over 10 million green kilometers (over 6 million miles,) Hrvatski Telekom is the e-mobility market leader in Croatia and the wider region, as well as the most reliable technology partner in EV charging and digital services. This is one of many solutions through which Hrvatski Telekom strives to connect all of Croatia with opportunities provided by modern technology.
The Hrvatski Telekom charging stations can be used in three ways – by using a T-RFID prepaid card, the Hrvatski Telekom espoTs app, and, for international drivers, the e-roaming service supported by over 60 partnering charging service providers across Europe. Detailed information about charging methods as well as an overview of the commercial conditions within the HT charging system is available at https://www.hrvatskitelekom.hr/poslovni/ict/e-mobilnost.
About Tommy
Tommy is one of Croatia's leading retail chains and the all-round market leader on the Croatian coast, with 217 outlets in several store formats.
The company ranks in Croatia's Top 20 by revenue, with continuous market share as well as revenue growth, and 4100 employees.
About Hrvatski Telekom
Hrvatski Telekom is the largest private investor in Croatia's digital transition and the leading telecom company in Croatia, offering a full stack of telecommunications services.
Charging stations for EVs, the most environmentally-friendly type of vehicle, is part of Hrvatski Telekom's increasing efforts to help create a sustainable and protected environment, part of their mission as a socially responsible company and the Croatian leader in digital charging services.
The Hrvatski Telekom vision is to maintain sustainable and profitable growth while connecting all of Croatia with the opportunities provided by the digital transition, in an effort to improve people's lives.